Acupuncture in Cork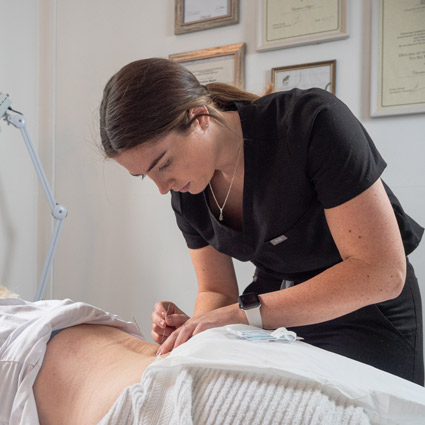 Join the millions of people worldwide who have received acupuncture as a form of healing care. At Glanmire Chiropractic Clinic, we are proud to offer acupuncture as a way to help you heal and improve various conditions. With no side effects and no interference with other biological medicine care methods, acupuncture has effectively helped people flourish for centuries, with origins in China.
This alternative medicine brings your body back into proper harmony and triggers your body's healing response, restoring physical, emotional, and mental equilibrium. There's a long list of symptoms that acupuncture can solve, from stress anxiety and panic attacks to back, hip, neck, and knee pain.
You do not have to have an illness to benefit from this practice, though. If you feel your body is out of balance but have no obvious diagnosis, we may still recommend acupuncture since it can be a wonderful way to rejuvenate the body overall.
NEW Patients »

Experience the Healing Benefits
Over years of experience in chiropractic care, Dr. Kelly has seen the positive outcomes of acupuncture. The results we get from this treatment and our other forms of care regularly attract new patients to Glanmire Chiropractic Clinic. Through a series of visits, you can experience life-altering healing.
Past patients have reported significant improvement, if not full healing, from the following diagnoses or issues:
Addiction to prescription drugs (For example, sleeping tablets and antidepressants)
Stress/anxiety
Panic attacks
Hormonal imbalance
Chronic fatigue
Fibromyalgia
Back, hip, neck, and knee pain
Digestive problems
Menopausal problems
Emotional imbalance
Infertility
Insomnia
Acupuncture has also boosted patients' immune systems, helping their bodies better combat sickness and remain healthy.
What Does the Process Involve?
Extra fine needles are put into specific points that are located on meridians or channels through which vital energy for the body runs. Even though needles may sound intimidating, this is not a painful process. We can talk through and demonstrate how the needles will enter so that you can be extremely comfortable with how this method works and why it is helpful.
After getting you acquainted with this form of care, we will start inserting the needles and then wait for them to take effect. Acupuncture appointments generally take at least one hour, and we recommend patients wear loose and comfortable clothing each time they come in.
Discover How We Can Address Your Condition
Get on the path to feeling fantastic. Contact us today to schedule an appointment!
CONTACT US »

Acupuncture Cork, Glanmire COR | (021) 482 4450