Ultrasound Therapy in Cork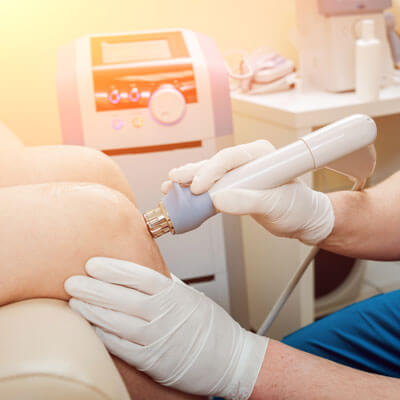 Are you experiencing joint pain or muscle tightness? Glanmire Chiropractic Clinic has a solution for you.
Try ultrasound therapy, a highly effective supplemental care option that has aided many patients like you in overcoming various health problems. Our goal with this treatment is primarily to help relax your tight or sore muscles, but we appreciate the fact that warming muscles and soft tissues can lead to even more benefits.
If you are already receiving chiropractic care adjustments at our Cork office, ultrasound therapy may be the perfect next step in getting you completely healed.
Plus, good news! There is no additional fee for this care if you already get chiropractic adjustments at Glanmire Chiropractic Clinic and are using insurance.
NEW Patients »

An Important Supplement to Your Primary Care
Ultrasound supplements a patient's primary therapy, similar to massage therapy, exercises, and stretching. The main health benefit ultrasound treatment provides is a reduction in muscle tension and increased circulation, which aids in healing.
Like with all our methods of care, we take the time to help you understand what we'll be doing with this therapy and why. We refer to it as a passive modality, meaning that a trained therapist from our office will administer the care.
Expect Great Results From a Quick Process
Ultrasound therapy happens after a cool gel is applied to the area that the therapist will work on. The therapist will then activate the ultrasound machine and begin the treatment. The patient may feel heat and warmth over the areas that are receiving care.
Typically this therapy is a quick process that takes the therapist and patient only 5 to 10 minutes to complete. Patients do not need to prepare in any way; come in just as you are and experience pain relief on the road to healing!
Take That First Step Towards Relief
Let us help you get out of pain so you can get back to what you love in life. Contact us now to schedule an appointment.
CONTACT US »

Ultrasound Therapy Cork, Glanmire COR | (021) 482 4450