Cupping in Cork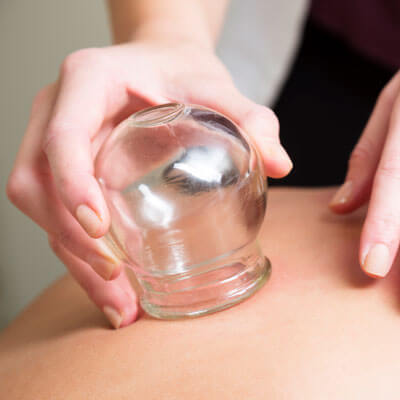 Discover the benefits of the ancient care method of cupping at Glanmire Chiropractic Clinic. As an additional care to chiropractic adjustments, we have seen many patients walk into our Cork office and experience life-changing healing from this method of care.
Used in many traditional Asian and European healing systems over the past several centuries, cupping has proven to heal a wide range of conditions. You can learn what this practice would look like and find out if this form of alternative medicine would be a worthwhile addition to your holistic care plan at our clinic.
NEW Patients »

How Does It Help Me?
Over the years, we have used cupping to help people heal from a variety of disorders and issues, including the following:
Respiratory
Musculoskeletal
Cupping dissipates local stagnation, improves blood circulation, and can cause vasodilation. It can also dissipate heat, cold, and dampness while drawing qi to an area and increasing gaseous exchange in the lungs.
In plain words, we use cupping to relax the body and detoxify tissues. This can lead to many benefits for you, including healing in the areas described above. In addition, we have seen how the therapy can reduce cellulite and water retention, improve nervous system functionality, and heal scar tissue.
What Does the Process Involve?
The process is straightforward at Glanmire Chiropractic Clinic. A special cup sticks to the skin by means of suction, which is usually produced by introducing a flaming object into it. The flame burns up the oxygen and produces negative pressure within the cup, thus pulling the skin and subcutaneous tissue upwards into it.
As a result of cupping, blood is activated and drawn into the area, which increases muscle tone and occasionally means the area may bruise. The additional blood flow is helpful in both excess and deficiency conditions.
Experience the Benefits of Cupping Today
Consider taking advantage of the many possible benefits of this ancient care practice. We encourage you to wear comfortable and loose-fitting clothing when coming into our Cork office for cupping appointments.
Contact us today to schedule an appointment.
CONTACT US »

Cupping Cork, Glanmire COR | (021) 482 4450