Dry Needling in Cork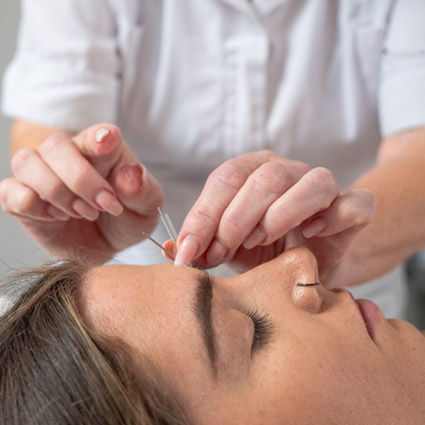 If your life is being affected by joint pain or muscle tightness, consider the possibility of natural pain relief and healing through dry needling at Glanmire Chiropractic Clinic. This method is a safe and easy way to decrease muscle tightness, increase blood flow, and reduce pain.
By using trigger point needling to target tight muscle and homeostatic points, we can help your body return to health and solve the issues keeping you from pain-free living. Come to our Cork office for this effective care.
What Does the Process Involve?
Dry needling is a simple process where we apply needles to an affected muscle or trigger point. The needles remain in the muscle or nerve for only a short period of time, and patients often report immediate pain relief after receiving care.
NEW Patients »

Since trigger and homeostatic points are usually painful to the touch, you may experience some pain before the needling while your therapist is locating the point. You may also feel a prick, have a small muscle twitch, or experience slight discomfort during the needling. In addition to the natural pain relief, you may feel tired after the session, with slight tenderness over the area and some minor bruising.
What to Know Before You Get Started
If you are coming in for dry needling, we recommend comfortable clothing. We will need a list of medications you are taking before we begin, as this care method is not advisable for people on blood thinners and those in the early stages of pregnancy.
Beyond the incredible benefits like natural pain relief, more good news about dry needling at Glanmire Chiropractic Clinic is that there is no additional fee for chiropractic care as this extra care method is covered by insurance.
Put Pain in Your Past
You deserve to get relief and experience healing. Contact us today to set up your first appointment.
CONTACT US »

Dry Needling Cork, Glanmire COR | (021) 482 4450